Nomadix provides solutions that improve the experience of guest wi-fi for venue owners, their customers and their visitors. Patented technology eliminates onboarding issues. Hardened appliances improve security and reliability and advanced bandwidth management algorithms improve performance and reduce requirement for bandwidth upgrades.
Nomadix gateways can be used on their own or as a hardware partner for cloud based captive portal and analytics solutions,  improving their reliability and performance
Nomadix facilitates more than 5 million connections daily worldwide. Focusing on Hospitality and MDU markets Nomadix is the leading provider of intelligent network devices that make nomadic computing and public internet access easy.
Access Gateway AG 2500
The AG 2500, Nomadix's mid-range bandwidth management gateway, is ideal for value-driven, visitor-based network's (VBN's). With four configurable WAN/LAN copper ports and support for up to 500 devices, the AG 2500 is the perfect solution for small to medium-sized venues, including hotels with up to 150 rooms that want to offer state-of-the-art internet access to their guests. When combined with the proven Nomadix Service Engine (NSE) core software, the AG 2500 becomes an appliance with unparalleled reliability. The base configuration of the AG 2500 includes 400 concurrent devices with a throughput of 400 Mbps (options to upgrade). The AG 2500 is built upon the best processor available to ensure that smaller properties who offer internet access can do so in an effective yet economical manner.
Access Gateway AG 5900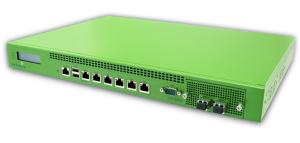 The AG 5900 is ideal for mid-to-large venues where support for thousands of simultaneous mobile devices is a must. It's a high-performance internet Access Gateway that enables the creation of high-speed internet access (HSIA) and visitor-based networks (VBN). Designed with scalability in mind it is renowned for its reliability and suitability for venues such as hotels, airports, stadiums and convention centres. The AG 5900 features the flexibility to support from 500 up to 8,000 simultaneous devices, and up to tens of thousands of devices when using our clustering feature. With a throughput of 3.5 gigabits per second, the AG 5900 Access Gateway is ideal for managing your growing bandwidth demand while ensuring your guests get the best internet experience.