Having built and distributed play lists to groups of headsets, it is now time to optimise the experience for your virtual reality users, helping you deliver your business and education goals.
This could simply mean allowing them to explore via the holo-deck,  while you monitor what they are seeing, or you may want to  deliver the same content to every user simultaneously,  guide them through the experience, highlight points of interest, pause and start play, promoting collaboration and peer discussion.
Launch Activities Simultaneaously
ClassVR portal allows the organiser to deliver a defined playlist of resources to multiple headsets simultaneously.
A simple set of 'play' and 'pause' controls sends resources to headsets and starts experiences. Videos are all sequenced simultaneously, so every student will be seeing the video at the same point, allowing organisers to describe and comment as it plays.
Dynamic Points Of Interest
Participants can be so immersed in a VR experience, it can be hard to get their attention. With ClassVR's dynamic 'Point of Interest' (POI), organisers can guide participants to look at a specific part of a VR experience, by simply clicking anywhere on the 360 image that is playing.
In the headsets, students will see a 'breadcrumb' trail, leading them towards the POI, and when they reach it they will see an icon, pointing out the item the organiser has highlighted.
Participant Head Tracking
Understanding whereparticipants are looking is almost impossible when they are wearing VR headsets.
ClassVR's innovative head tracking feature allows organisers to have a view of exactly where each participant is looking in their headset.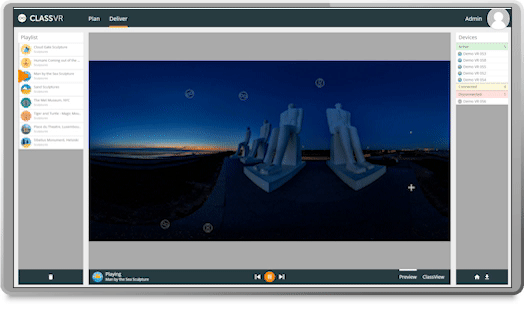 Real-Time Headset View
Small icons, depicting each participants headset 'point of view' (POV), are displayed on the portal, allowing organisers an instant glance to see if they are all focused in the right place.
These icons deliver real-time tracking of headset movement and orientation, providing valuable feedback to teachers.
Activity Launch and Lock
Sometimes organisers want to ensure that all viewers are watching particular content item at the same time. Sometimes users who are not confident or familiar with the technology need a Wear and Go experience removing all complexity.   Activity Launch and Lock enables the organiser to launch content on a head set or simultaneously on a group of headsets and lock participants to the selected activity
Button presses or gestures are disabled, ensuring the participants remain in the current experience.
Introduction Video: Delivering Lessons Using The ClassVR Portal
The following short video will give you an introduction to how the ClassVR Portal can be used in a typical classroom scenario, to seamlessly deliver a virtual reality lesson.
Introducing ClassVR, a groundbreaking technology designed to help raise engagement & increase knowledge retention for students of all ages. Everything your school needs...